KCMO was Norman's furthest foray east in broadcasting jobs. It was a dull gray station in Kansas City with "adult" programming, which
Norman attempted to lighten up while he was there, with mixed results. He started doing the mid-day shift, but soon, for the first time in his career, Norman became the early morning man. One of the other stations in KC started their morning man at 5 a.m., so all the others felt they had to respond. Norman worked from 5-9 a.m. for almost two years until his tendency to explore the unknown and take chances led cautious management to decide to let him go.
Some of Norman's most interesting programming at KCMO was done at night. The all-night man went on vacation and Norman volunteered to do his show, as well as the morning show, so for a few weeks, he went on the air at 1 a.m. and continued until 9. The all-night show was unimportant to the brass, so Norman could stretch out on it--and he did.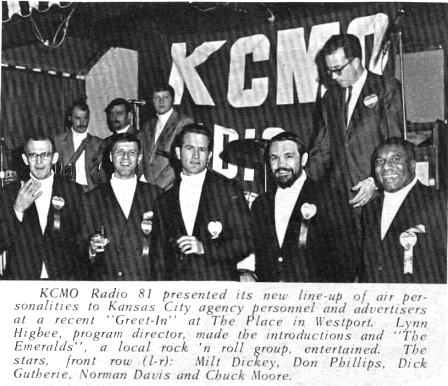 AUDIO:
interview with Ethel Merman 1967
aircheck of the all-night show 1969
aircheck of all-night show 1969 - "Fondue"