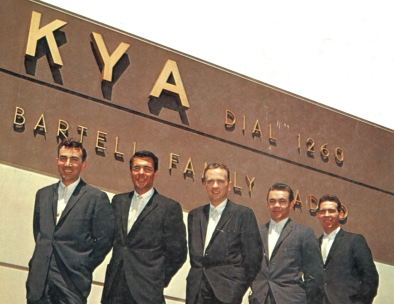 Bob Mitchell, Les Crane, Peter Tripp, Norman Davis, Jim Stag
KYA 1260
KYA was a crazy place when Norman arrived in 1959. It was owned by "Bartell Family Radio" whose m.o. was to buy stations in trouble cheap, then cram the air with commercials, (for whatever they could get) contests, jingles, promos, spot-separator features and other debris. Even with a bad reputation, they were able to make the station sound like it was raking it in, and then dump it on some poor sucker. Echo chambers, buzzers, beeps, gongs, horns and sirens, they had it all. Salesmen would offer clients 20 free spots, if they'd buy 10. Or they would give them a bunch of free game spots. The production guy went nuts trying to come up with more "game" ideas.
It didn't get much saner until Bartell hired Les Crane to be P.D. in 1961. Crane was given carte blanche to do anything with programming that would get the stations some rating points. KEWB had started up in Oakland, and was taking away listeners. Crane dumped ALL the garbage, brought in east coast payola refugees Peter Tripp, Bobby Mitchell and Tom Donahue and in a few months regained the lost audience and quite a lot more.
Davis spent more than five years at #1 Nob Hill Circle, having one of the five union-guaranteed announcer jobs so he could not be fired except for misconduct. The station was sold twice during his tenure and succeeding management teams tried to give him the boot for various reasons, but were unable to do so because of his union status.
When Bill Drake arrived as the new P.D. fresh from Georgia in his crewcut and penny loafers (with real pennies!) he carried around two big books labeled "Features" and "Gimmicks." Drake was humorless and inflexible and issued numerous curt memos forbidding DJs from this and that.
Owner Clint Churchhill, an innocuous little weasel from Buffalo, NY, whose daddy bought him KYA so he could get rid of him, took an instant dislike to Norman. He wanted to bring in one of his former jocks from Buffalo to fill the air slot. First he had Drake issue a memo that there would be no more dedications, the main attraction on Norman's top-rated show. Other memos banished other popular features. Then as he couldn't fire Davis, Drake took him off the air as a DJ, and assigned him to the news department on the late shift with Monday night off and waited for him to quit . . .which in due time . . . Norman did.
the sounds
JUNE WILKINSON INTERVIEW 5-23-1960 plus 15 min of Lucky Logan show
KYA 1960 - LUCKY LOGAN SHOW after the June Wilkinson interview
KYA GOOF 1960
KYA SOUND HOUR 1960 - produced by Norman from outtakes & commercials he found on production reels and played at the KYA Xmas party that year. Mgr. Mort Wagner was not too amused but had to pretend otherwise. Includes voicetracks by: Seamus O'Hara, Tony Tremayne (Mel Fritze), Jim Spero, Bob Brannon, Mark Adams (Don Allen), Mort Wagner, Jerry Bartell, Jimmy Fidler and others.

KYA 1961 TOM DONAHUE SHOW

KYA 1961 BOBBY MITCHELL SHOW
KYA 4-14-61 BOBBY MITCHELL SHOW
KYA 1962 JOCKEY RACES PROMO
KYA 1960 Phyllis Diller tells a joke
KYA 12-26-64 Norman sits in for Tom D
Part one Part two
KYA 1965 LAMAR SHERLOCK NEWS
Bob McClay explains the infamous Lamar Sherlock newscast
KYA 1965 GENE NELSON SHOW
KYA 1965 RUSS SYRACUSE SHOW
KYA 1970'S JINGLE COLLAGE
KYA ID AIRPORT
BOBBY DALE remembers KYA (1977)
NORMAN DAVIS remembers KYA (1977)
NORMAN RECALLS EVEN MORE

BOBBY DALE & BOB MCCLAY ON NORMAN
BOBBY DALE ON DONAHUE & MITCHELL
BOBBY DALE ON MCCLAY