KOBY
KOBY was San Francisco's first "Top 40" rock 'n roll station. Stuck way up on the top end of the dial (1550), it was a struggling independent, until the owners decided to emulate Todd Storz' big success with the first top 40 station in Omaha, Nebraska.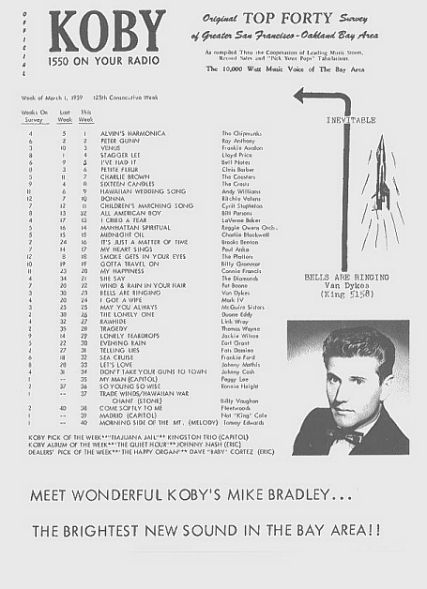 KOBY was a union shop and was saddled with a bunch of older radio announcers, who nonetheless, tried gamely to do the rock 'n roll thing. Bobby Beers, a high-voiced soprano from Iowa became their big morning gun along with Sunny Jim Wayne, Ted Randal and others long forgotten.
In spite of the amateurish presentation, because it was the first in San Francisco, KOBY grabbed some great ratings and was the talk of the town for about a year until KYA and then KEWB jumped on the top 40 bandwagon. KOBY faded fast after that and later became a classical music station.
Norman landed a job in the fall of 1959 and was given the moniker "Al Knight" for some reason, although he worked weekends and not the all-night show. On weekends, the downtown studios (on Powell Street) were closed and programming emanated from the transmitter, a few miles down 101 on the San Mateo mud flats.
Norman signed on the station at 5 a.m. Sunday morning and spun the mishmosh of pop tunes that prevailed in the late 50's. He also gave the news on the hour. Our only memento (so far) of the KOBY days is a newscast.
In the '50s, jingles were the big thing at radio stations and KOBY had the requisite package, cranked out by a jingle mill in Dallas or L.A. The jingle for the news open is one of the longest ever--running over a minute.
(Note that in 1959, Norman was still a rookie with only a year in Pocatello and two years in Spokane radio. He was still trying to sound like a "radio announcer" with clipped tones and extreme over-punctuation.)
AUDIO: