KKSN
In 1980, Norman was hired as "Creative Director"--a euphemism for Production Director, by a group who brought "KISSIN'" back on the air in Portland, Oregon, after its original license had been revoked for shady practices. The original call letters, KISN, had been taken by another station and so the new call became KKSN. The station started out ambitiously with a live, 90-minute morning news magazine and many other specials and features. Staff included Sully Roddy, Michael Knight, Steve O'Shea, David Smith, Todd Tolces and Michael Jack Kirby. Bob Simmons was P.D. Bill Failing was the manager. Lesson learned: Never work for a man named "Failing."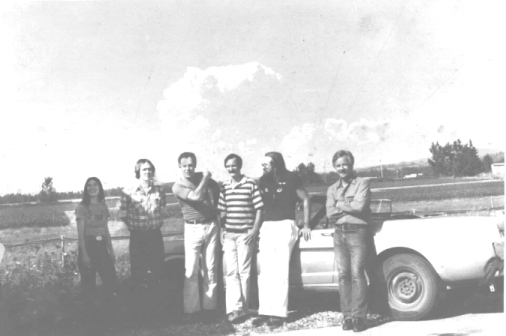 Sully, Michael Jack, Steve, Michael, Norman and Bob
with Mt. St. Helens erupting in the background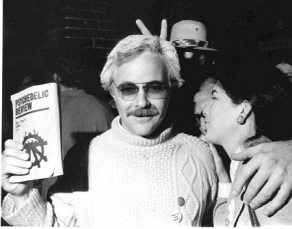 Simmons & Sully

AUDIO
The Amazing Mr. Waller - special on Fats Waller, produced by Norman in 1981
Phil Buchanan ruminates on himself, KKSN and the world.
Strange Encounters - a series of features on UFO contacts produced by Norman in 1981
Features Norman produced for "91 Northwest" the morning news magazine:
The San Francisco Earthquake 4-18-06 (4-18-80) narrated by Dave Smith
Hitler's Birthday 4-30-1889 (4-30-80)
Hindenburg Crash 5-6-37 (5-6-80)
Harry Truman's Birthday 5-8-1884 (5-8-80)
Robert F. Kennedy shot 6-5-68 (6-5-80)
Garage Sales 8-20-80
Volcanoes 8-26-80
Harvest Moon 9-24-80
Cavity Fighters 9-25-80
Water Conservation - 10-14-80
Anti-Feedants